Fabulous Scalloped Slate Roof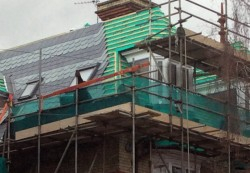 This stunning house in Cambridge was in need of a re-roof and MT Roofing & Scaffolding provided all the scaffolding, roofing materials and labour for the project. Using a range of roofing materials and skills we stripped the roof and installed new membrane, tanilised battens and hung the slates in this beautiful pattern. Each scalloped slate is individually cut by us and we think the result looks fantastic.
We also did the leadwork in the valleys, clad the dormer windows and installed new Velux windows.
Location: Defreville Avenue, Cambridge
Project: Scaffolding and re-roof with scalloped slates and leadwork
Supplied: Scaffolding, labour, slates, tiles, battens, membrane, valleys, lead, nails
Click to enlarge....