Leys School Chapel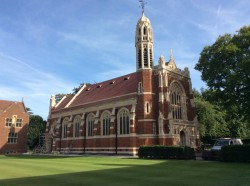 The historic chapel at the Leys School in Cambridge required masonry repairs and renovations and MT were happy to supply the scaffolding . This is one of a number of recent projects at the school and we are proud to be working in such beautiful surroundings and maintaining these magnificent buildings for future generations.
Location: Leys School Chapel in Cambridge
Project: Brickwork and masonary repairs.
Supplied: Scaffolding, weatherproofing & labour
Click to enlarge....