New Build Houses in Impington, Cambridge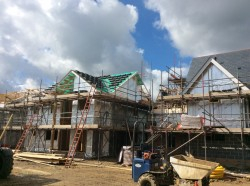 This local development in Impington, just outside Cambridge, comprises a number of houses and bungalows and MT Roofing provided all the scaffolding and roofing for the project. Using a range of roofing materials and skills we worked with the developer to install the roofs and valleys and clad dormer windows.
Location: Impington village, Cambridge
Project: Scaffolding and roofing on new build housing
Supplied: Scaffolding, labour, slates, tiles, battens, membrane, valleys, nails
Click to enlarge....