Re-Roofing Harston Village Hall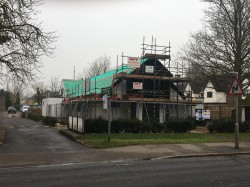 This lovely village hall now looks even better with it's new roof. MT Roofing and Scaffolding were proud to have been asked to complete the job and help keep this wonderful, much used community facility in good condition so it can continue to be used for years to come.
Location: Harston village, Cambridge
Project: Scaffolding and roofing on village hall
Supplied: Scaffolding, labour, tiles, battens, membrane, nails, ridge tiles, hip irons
Click to enlarge....