Roof Slate and Tile Restoration at The Leys School, Cambridge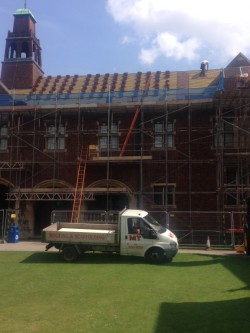 We are pleased to say that we have started our latest projects at The Leys School in Cambridge. These are huge projects involve erecting scaffolding, removing the slates and tiles, replacing and upgrading the felt and battens and finally replacing the slates, tiles, lead flashing and ridge tiles.
Working in teams our skilled roofers progress along the roof in stages to reduce the impact and risk of water penetration while the roof is exposed. These impressive roofs are a joy to work on, especially in the recent good weather.
Currently working on a large slate roof and a smaller tiled roof we are project planning the rest so that everything runs smoothly with minimal effect on life for all it's staff and pupils.
Location: Central Cambridge
Project: Complete removal, re-felt, re-batten and re-fitting of tiles and slates.
Supplied: Scaffolding, membrane, battens, clay tiles, lead, nails, slates, tiles.
Techniques: Slating, tiling, leadwork
Click to enlarge....