Roofing Project at Godolphin Stables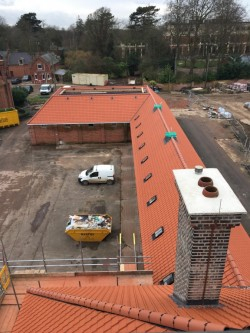 We are very proud to be involved in this refurbishment and extension project for the Goldolphin Stables in Newmarket. Our scaffolding and roofing services were employed to install new and replacement roofing including scaffolding, tiling, membranes and battens. There was also some chimney repair work and the whole project is really now starting to move from a building site to an hugely impressive new facility. These pictures were taken from the top of the clock tower, giving a birds eye view of the project.
Location: Godolphin Stables, Newmarket
Project: Scaffolding and roofing on renovation and extension project
Supplied: Scaffolding, labour, tiles, battens, membrane, nails, ridge tiles, hip irons, lead
Click to enlarge....